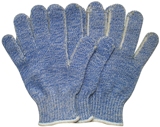 A string-knit glove has inherent cut-resistant properties. When you combine this style with a blend high-performance yarns, you increase cut-resistance significantly.
Kevlar® is known for its impressive cut and flame-resistant properties, making it a popular material for gloves. When used as a thread in cut-and-sewn styles, it dramatically improves seam strength.
Dyneema® is 15 times stronger than steel on an equal-weight basis, and has a high coefficient of friction. It is also a lint free,continuous filament yarn.
Depending on your needs, you can fund a string-knit cut-resistant glove in economy styles or high-performance prestige styles, with various cut-level ratings. All are constructed with the same amount of care, ensuring safety is at the forefront of every glove.
Just refer to : http://www.bspgloves.com/pic_show.asp?id=156